If you're planning your first visit to Syracuse Gastroenterological Associates, we look forward to meeting you. To help prepare you, please review the information below.
Mission Statement
Our practice is working together to realize a shared vision of uncompromising excellence in gastroenterology.
Listening to those we are privileged to serve.
Earn the trust and respect of patients, profession and community.
Exceed your expectations.
Ensure a creative, challenging and compassionate professional environment.
Strive for continuous improvement at all levels.
---
Appointments
Please call our office at 315-234-6677 during regular business hours (M-Fri 8:30-4:30) to schedule an appointment.
If you cannot keep a scheduled appointment, or will be delayed, please call us as soon as possible. Our office does have a no show / late cancellation policy.
We ask that you arrive 30 minutes prior to your scheduled appointment time to allow for review your information. Please bring a photo ID, insurance card(s), and a medication list.
---
Patient Forms
For your convenience, our patient forms are located below.
If you are a new patient , you will need the first 4 forms below for your appointment. If your appointment is within the next 2 weeks please bring these forms with you, otherwise we do prefer you mail your forms to us prior to your appointment.
In order to view or print these forms you will need Adobe Acrobat Reader installed.
Click here to download it.
---
What To Expect
Being well-prepared for your appointment will ensure that the doctor has all of the needed information to provide the best possible care for you. It will also help alleviate any unnecessary anxiety you may be feeling prior to your first appointment. Educate yourself on your symptoms by reviewing the content on this website. Also, take some time to review our staff page and familiarize yourself with the doctors. We look forward to your first visit.
Please arrive 30 minutes prior to your appointment
Bring your packet of paperwork with you if you have not already mailed it in
Bring a picture ID
Your insurance cards
Medication list
Any payment that may be due
---
No Show / Late Cancellation Policy
Effective February 13, 2013
Office visit appointments require a minimum of 1 business day prior notice or you may be charged a $30.00 fee.
Endoscopy procedures require a minimum of 3 business days prior notice or you may be charges $150.00 fee.
Capsule Endoscopy / PillCam appointments require a minimum of 3 business days prior notice or you may be charges $150.00 fee.
We understand that circumstances beyond your control may arise, causing you to miss your appointment. Exceptions will be made in the event of inclement weather or real emergencies. Please be considerate of other patients by calling our office as soon as possible if you can not keep your appointment.
---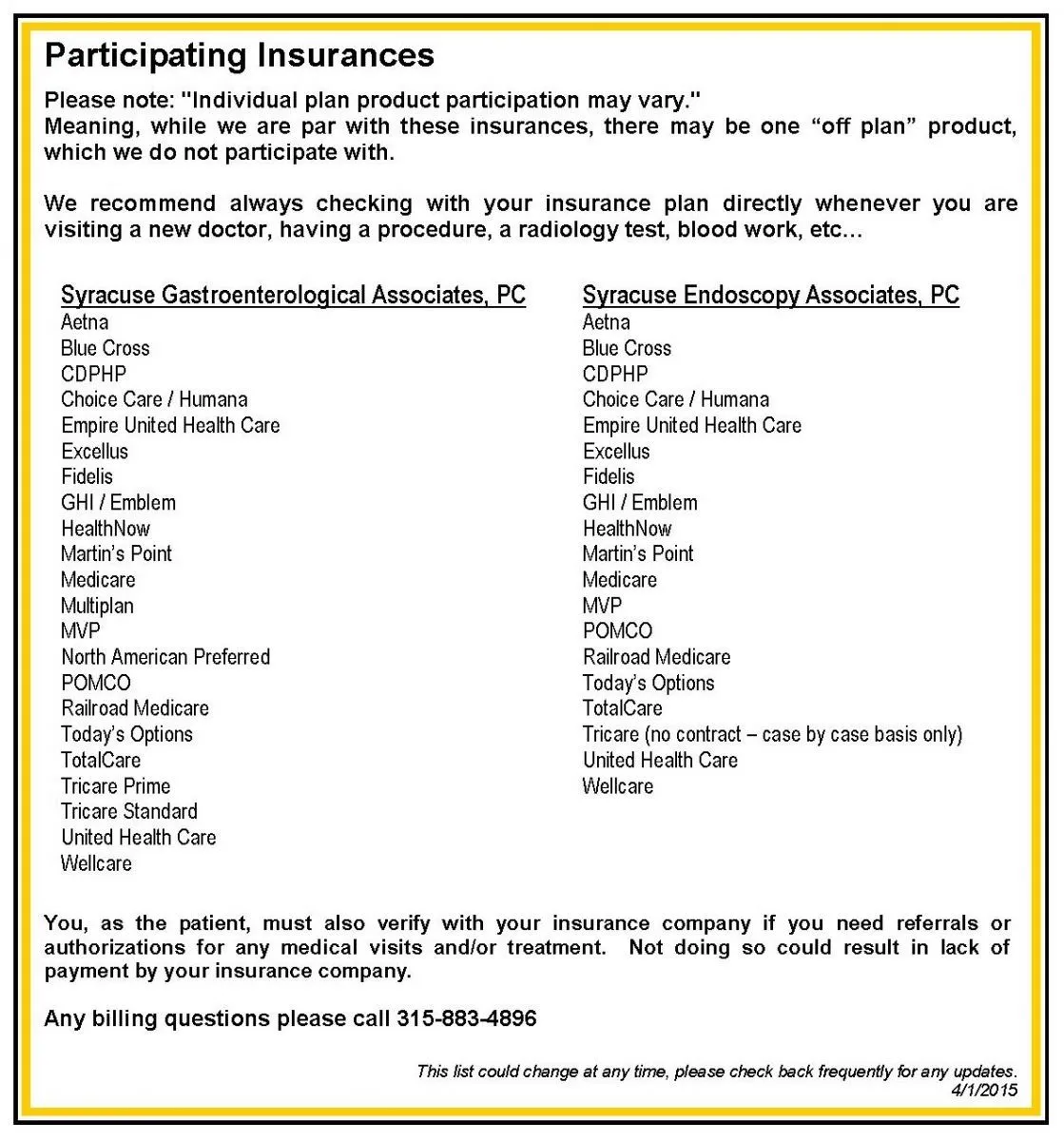 ---
Hospital Affiliations
Crouse Hospital
736 Irving Ave, Syracuse, NY 13210
(315) 470-7111
For patients:
http://www.crouse.org/visit/patients/
Health Insurance Plan Participation:
http://www.crouse.org/visit/patients/billing/
Billing office 315-470-7331
Community Memorial Hospital
150 Broad Street, Hamilton, NY 13346
(315) 824-1100
For patients:
http://www.communitymemorial.org/services/gastroenterology
Billing questions call 315-824-6552
https://www.communitymemorial.org/wp-content/uploads/2016/06/Billing-and-Insurance-FAQ.pdf